About This Workshop on Angels, Nature Spirits and Elementals:
Introduction – We are in a great renaissance of interest in angels and angelic healing light. We are also in a time of great interest in shamanism and nature-based spirituality. This workshop explores the vast spectrum of support that can be found in the spiritual dimensions at this time of global transition and transformation. At this time there is much support from the Angelic realm and from many guides and beings of light. Join us on this 2-day workshop on Angels, Nature Spirits and Elementals at Emerson College in Forest Row (UK) to connect with many of your unseen friends in spirit.
Saturday 1st July 2023 from 10am to 5:30pm
Saturday 1st July 2023 optional Fire Ceremony at 7:30pm
Sunday 2nd July 2023 from 10am to 5pm
Angels – Those that are familiar with Steve and Liz's work know they work with six Archangels in all their meditations. These are the Four Archangels of the Horizontal Plane, Raphael, Michael, Gabriel and Uriel. Also, the two Archangels of the Vertical Plane Sandalphon and Metatron. On this workshop we will be working with these angels as well as other groups of angels and archangels holding different clearing and healing rays.
Nature Spirits – Many cultures around the world, before the rise of mainstream religions, practised an earth-based spirituality which saw all life forms on the earth as having an innermost Spirit, an innermost guiding intelligence. With the rise of mainstream religions followed by the rise of science there was a general movement away from nature-based spirituality. Nature holds great wisdom and a vast potential for healing the earth.
Elementals – All the elements of nature, air, fire, water, earth and prana or chi contain elemental beings. These beings support the building and structural integrity of all forms in nature from leaf to rock to tree to star. The elementals of air can feel inspiring and invigorating. Fire and water tend to feel cleansing in different ways. Earth is restorative and supportive. Chi or prana is a flow of revitalising energy that flows from the sun and through the kingdoms of nature. On this workshop we will be taking time to tune into the wisdom of nature spirits. We will also take time to re-energise our bodies and energy fields with the vitality of nature.
Power Animals – In shamanism, there is the concept of Animal Spirit Guardians. Or sometimes called Power Animals. This is where we connect to the Deva Spirit holding a whole species of animal rather than the individual consciousness of one animal being. Power Animals can be called on for healing, guidance and protection. On this workshop we will be working to build a connection with these beings and invoke some of these guardian energies into your reality.
VENUE: Emerson College – The EC Estate supports a huge biodiversity with many different species of plants and trees. It has been tended Biodynamically for over 60 years, without the use of pesticides, using methods of cultivation designed to bring vitality and nourishment to the earth, supporting and celebrating the nature's processes.
Emerson College, Forest Row, East Sussex, United Kingdom, RH18 5JX
During the workshop – There will be meditation, group process (indoors and outdoors). Emerson College exists in a vibrant landscape of nature spirits and elemental energies and there will be time devoted to exploring the surrounding landscape and connect with the angels, nature spirits and elementals in the space. There will also be an optional fire ceremony Saturday evening.
________________________________________________________________________________________________________________
Please note this fee does not include accommodation, travel or meals. Accommodation can be booked directly with Emerson College or with a local hotel/Airbnb. Meals can also be booked directly with Emerson College. All of these details plus travel options will be sent with the ticket confirmation email. There will be an option to explore the grounds over the weekend and so a certain mobility/ability to walk unassisted is required if you wish to do this. For those who choose to dine at Emerson, lunch is served at 12:45pm and Supper at 6:15pm.
Emerson College was founded by Francis Edmunds in 1962 as an education centre for young adults. He felt that people were seeking a more holistic way of expressing themselves, creatively, intellectually and spiritually, free from doctrine or convention. Emerson College is closely aligned with the teachings of Rudolf Steiner.
________________________________________________________________________________________________________________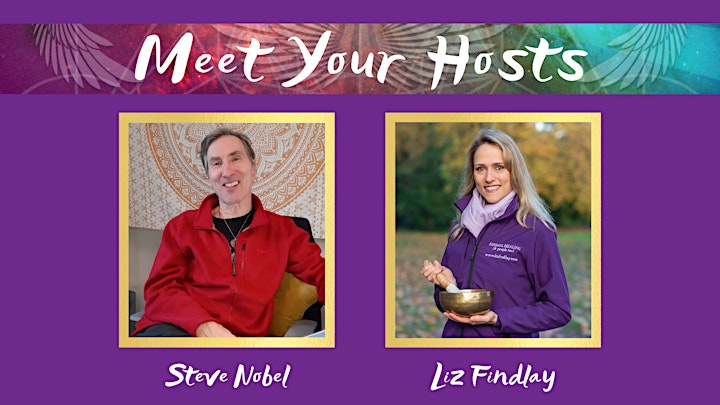 Steve Ahnael Nobel is the author of 6 non-fiction books, the most recent is entitled 'The Spiritual Entrepreneur'. He is a book mentor and spiritual coach. He was a director of a not-for-profit spiritual organisation called Alternatives (based in St. James's Church, Piccadilly, London W1) for 13 years, leaving on the Winter Solstice of 2012. Subsequently, after leaving he began his own work. He created a healing system called Soul Matrix Healing. He also began creating a series of transmissions which are freely available on his website and YouTube channel. These transmissions are played all over the world and so far, the platform has over 155K subscribers. Steve runs webinars aimed at Starseeds, supporting them on their journeys. Visit his website here.
Liz Findlay is a Reiki Master Teacher, Animal Healer and Laughter Yoga Leader with her own business offering multifaceted healing for both people and animals. Originally from South Africa, Liz lived in London for over 12 years before moving to the Sussex coast where she offers all healing sessions online. She co-hosts Starseed Business Networking each month with Steve Nobel, and runs a podcast called "Inspiring Spiritual Entrepreneurs". She also trained with Steve Nobel in his 'Soul Matrix Healing' system. Liz runs webinars on working with energy and spirituality, as well as practical webinars helping spiritual entrepreneurs. She produces free meditations and podcasts available on YouTube, SoundCloud and Insight Timer. Visit her website here.