A three-day Brighton workshop to awaken the magician within you, open your chakras, tap into soul gifts and activate a radical flow of abundance!

Starseeds have incarnated on Earth as magicians, as pioneers in consciousness, map makers and way-showers helping to raise the love vibration of the human collective. Join us on this three-day workshop aimed at awakening the magician within you, opening your chakra/auric system, tapping into your soul gifts and activating a radical flow of abundance!
BRIGHTON WORKSHOP: Awakening the Starseed Magician
Friday 25th August to Sunday 27th August 2023
The Old Ship Hotel, Brighton, United Kingdom
Starseeds are Magicians. You are a Starseed and you are here with a mission. That mission begins with an awakening. There is a journey out of the 3D Matrix into a new reality. Starseeds are natural alchemists and magicians. As an alchemist, they learn to transform toxic energies. As a magician, they learn to create their reality, shifting it from a lower vibrational experience to a higher range of experiences. Once this has been mastered, then comes the work of service or assisting in co-creating a New Earth.
Starseeds and Vibration. Starseeds are natural magicians when it comes to working with vibration. They are naturally repelled by lower toxic vibrations and attracted to higher vibration of joy, love, play, wisdom and so on. When you raise your vibration, you open new doors of possibility in your reality and close other doors that are not in alignment with your soul's chosen destiny.
Starseeds are Multidimensional. Meaning you have a vast range of resources within you. Your soul contains many experiences and is working across many lifetimes across time/space/dimensions, including this 3D dimension (which is now shifting to 5D). Now is a good time to shift away from lower frequencies of fear, greed, resentment etc, and embrace higher frequencies of love, joy, happiness, gratitude, enthusiasm, wonder, bliss and so on. Together, it is possible to create heaven on earth.
Magic is the New Norm. We have long regarded magic as something etheric and mysterious, only available to a selected few, but magic is the new norm for Starseeds as it is the way they awaken their highest potential. These qualities just lay dormant within us for as long as we are ruled by the 3D Matrix and its limitations. It is now time to Awaken the Magician within and embody the Creator that you have come here to be.
Abundance is Your Birth Right. Abundance is the natural state of the Universe. The Sun gives light and energy 24/7. One sunflower contains enough seeds to fill a field full of sunflowers. The abundance of the Universe is given generously. Scarcity is something that is created in a low frequency human world. Starseeds are here to clear old scarcity patterns and birth a new possibility on the earth-plane.
The Venue for this Brighton Workshop:
This is an in-person workshop at The Old Ship Hotel on the Brighton Seafront. The full address will be provided in the confirmation email, along with a discount code to book accommodation should you wish to stay at the hotel during our workshop. Brighton Train Station is roughly 30 minutes from Gatwick Airport on the Gatwick Express, and about 1 hour / 1.5 hours from London depending on the station you choose to leave from.
Tickets must be purchased through Eventbrite in advance. No ticket sales at the door.

OVERVIEW: During this workshop, we will explore how Starseeds can awaken and embody more of their innate magician through practical exercises, attunements, meditations/transmissions that will support you in awakening the magic and higher vibrations that are within you waiting to come forth.
Day One (Friday Afternoon): We welcome our tribe of Starseed Magicians, starting with an opening Attunement to seal the space. The afternoon continues focusing on opening the chakras and the inner channel, clearing any energetic blocks, expanding the aura and clearing any energetic blocks. We also set powerful intentions for the weekend.
Day Two (Saturday): This day focuses on awakening your true magical nature, raising your vibration (chakras and layers of the aura), connecting with your Higher Self, and Unseen Friends. We explore the concept that the world is your mirror. We use processes to upgrade the ego so that you know you are a magician, an alchemist, a reality transformer.
Day Three (Sunday): This day begins with an Extra Blessing with a Cacao Sound Session. See below for more info. The day continues, focusing on activating your soul gifts, and your ability to manifest a flow of abundance on the earth-plane.

We have organised an extra blessing for you of a Cacao Sound Session on the Sunday morning of this Brighton Workshop with a collaboration offered by our dear friends, Anna Robertshaw and Matt Hillier.
You will have the opportunity to experience a Cacao Ceremony infused with the frequencies of Crystal Tones sound bowls as you lay down and integrate.
The Cacao, with its amazing qualities and powerful anti-oxidants, will help you quieten your mind, connect with Mother Earth, align with the Universe and deepen your ability to go within. The ceremony aids with inner processing and guidance, helping to release blockages in your life and energy system.
The Crystal Tones sound bowls help to harmonise your physical and energetic bodies to integrate the intention of the space we are creating together. This brings balance & sends ripples of resonance to birth us into our natural state of being and frequency.
Our preferred brand of Cacao is "Full Power Cacao", which is ethically sourced in Venezuela. If you would like to pre-order a bag to take home with you from the workshop, please click on Matt's website here: Pre-Order

Please Note: This is an in-person workshop from Friday afternoon to Sunday late afternoon at a lovely seafront hotel in Brighton, England UK. You need to be able to attend all days.
THE FEE IS FOR THE BRIGHTON WORKSHOP AND DOES NOT INCLUDE ACCOMMODATION, MEALS OR TRAVEL. INFORMATION ON THESE WILL BE SENT IN THE CONFIRMATION EMAIL ONCE YOU BOOK YOUR TICKET THROUGH EVENTBRITE.
VERY IMPORTANT NOTE: Please only book 1 ticket in your name and ask your friends and partners to book their own tickets if they are also joining. This is for administration purposes as Eventbrite doesn't seem to provide space for you to notify us of the names and email addresses of additional ticket holders.
CANCELLATION POLICY:
Please see here for information in the (hopefully) unlikely situation you need to cancel. We require 7 days' notice via email for a full refund, minus any fees Eventbrite wish to take. However, where an event is sold out and has a waiting list, we will gladly contact everyone on the waiting list to try and sell your ticket. Should someone wish to buy it, we will refund you in full, minus any fees Eventbrite wish to take. Should no replacement attendee be found for your ticket, unfortunately we will be unable to refund you due to upfront costs involved for us booking venue hire etc. Where an event is not sold out and there is no waiting list, you are most welcome to find your own replacement. Should travel restrictions be reintroduced, we will offer all affected parties a full refund. We also reserve the right to cancel this event should we be unable to reach the location due to any travel restrictions. We sincerely hope this will not be the case.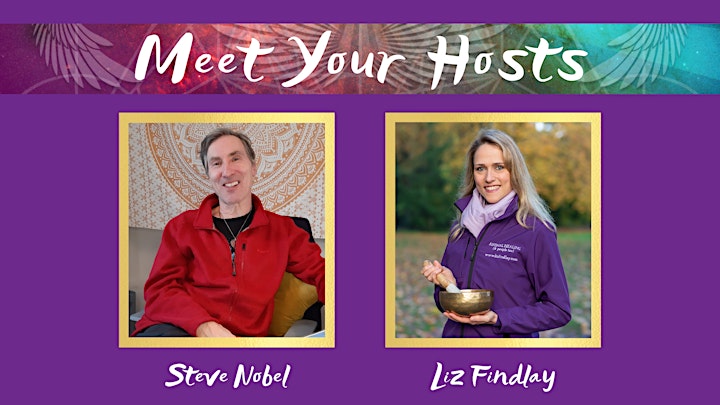 Steve Ahnael Nobel is the author of 6 non-fiction books, the most recent is entitled 'The Spiritual Entrepreneur'. He is a book mentor and spiritual coach. He was a director of a not-for-profit spiritual organisation called Alternatives (based in St. James's Church, Piccadilly, London W1) for 13 years, leaving on the Winter Solstice of 2012. Subsequently, after leaving he began his own work. He created a healing system called Soul Matrix Healing. He also began creating a series of transmissions which are freely available on his website and YouTube channel. These transmissions are played all over the world and Steve received an award from YouTube in August 2021 for reaching 100K subscribers. Steve has also set up a free social media site for Starseeds called 'Our Social Matrix'. He runs webinars aimed at Starseeds, supporting them on their journeys, as well as 1-to-1 sessions on Zoom. Visit his website here.
Liz Findlay is a Reiki Master Teacher, Animal Healer and Laughter Yoga Leader with her own business offering multifaceted healing for both people and animals. Originally from South Africa, Liz lived in London for over 12 years before moving to the Sussex coast where she offers all healing sessions online. She co-hosts Starseed Business Networking each month with Steve Nobel, and runs a podcast called "Inspiring Spiritual Entrepreneurs". She also trained with Steve Nobel in his 'Soul Matrix Healing' system. Liz runs webinars on working with energy and spirituality, as well as practical webinars helping spiritual entrepreneurs. She produces free meditations and podcasts available on YouTube, SoundCloud and Insight Timer. She also offers 1-to-1 sessions on Zoom for people, as well as companion animals. Visit her website here.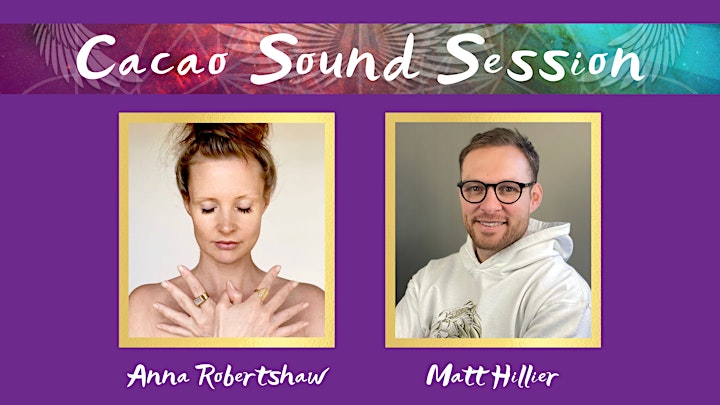 Anna Robertshaw is a senior yoga teacher, yoga teacher trainer, Reiki practitioner, Temple of Alchemies therapist and a NADA Protocol ear acupuncturist. She runs sound sessions, courses, retreats and yoga teacher trainings. Visit her website here.
Matt 'The Humble Bear' Hillier is a certified life & spiritual coach, soul alignment mentor, galactic & soul language channeler, as well as a Reiki Master, Angelic Reiki practitioner, Theta Healing practitioner and Cacao Ceremony facilitator. Visit his website here.