A retreat in Glastonbury to awaken the new template of Sacred Feminine and Divine Masculine within this Ancient and Sacred Landscape of Avalon.

Calling all Starseeds for this Glastonbury Retreat. As you know, we are in a time of a great global energy shift from fear to Love, separation to Unity Consciousness, struggle to new possibilities. In this time frame, energies on and within the Earth are changing.
Thursday 30th March to Sunday 2nd April 2023
The Goddess Hall, 29 Benedict Street, Glastonbury, England, BA6 9NB

An Old World is Dissolving. Ascension brings an end to an old world of 3D structures. In that old world, both feminine and masculine energies have been distorted, suppressed and traumatised. The power of the masculine has been shackled and bled in countless power struggles and battles. The feminine has been domesticated, energetically imprisoned and robbed of much of her sacred power. The whole of humanity has passed through a Dark Night of the Soul – all of that is now changing.

The Emerging Possibility. As the planet moves the intensity of the Ascension process, Starseeds are being called to move completely out of old patterns of suffering, toil and struggle to align with a higher blueprint, one that allows for more Flow, Grace and Miracle consciousness. There is a new blueprint coming online, one where the Sacred Feminine and Divine Masculine begin to come online and work synergistically together. This has not happened since the ancient civilisation of Lemuria where a collective decision was taken to gradually experience denser frequencies on the planet.

The Goddess is Returning. As Patriarchy began to dominate the planet the Goddess was slowly but surely banished from the planet. 3D religions began to spread that carried a golden thread of truth yet also much distortion, imbalance and falsehood. At this time of ascension, the Goddess is returning. She comes, not to bring a return to Matriarchy, but to bring balance to our world. She comes to heal the distortions created within the Feminine. She comes in Her cosmic aspects through both the Ascension grid from the Great Central Sun. She also comes from the Crystalline grid of Gaia in her Earthly aspects. As this happens there is a calling to embody the various archetypes of the Sacred Feminine in both men and women. Archetypes such as the Artist, Dreamer, Lover, Priestess.

The God is Returning. As Patriarchy begins to crumble and disintegrate the masculine archetypes are being healed of old distortions and traumas. This allows for a new template for the masculine to emerge. One that is in service to the Life Force. The Divine Masculine works in union with the Sacred Feminine to bring a greater sense of Flow on the earth-plane. The Divine Masculine is emerging as Guardian, Warrior, Druid, Shaman, Magician, Lover.

What to Expect on this Glastonbury Retreat. There will be group processes for healing, awakening the new template of Sacred Feminine and Divine Masculine. There will be deep transmission-meditations and also space for reflection. We will explore the main Sacred Sites of the magical land of Avalon, the Tor (an ancient Druid Hill and Labyrinth), Chalice Well Garden (a beautiful Feminine sacred space to connect with the ancient well waters and elemental energies) and Glastonbury Abbey. We will also utilise some of these magical spaces for some group activities and ceremonies. There will of course be time to explore many of the gorgeous crystal shops, cafes and restaurants around town.

One Extra Blessing: On Saturday evening there will be a wonderful Sound Healing Journey. This is optional and only open to retreat participants.
PLEASE NOTE THE FEE FOR THIS GLASTONBURY RETREAT IS FOR THE COURSE AND DOES NOT INCLUDE ACCOMMODATION, MEALS OR TRAVEL. INFORMATION ON THESE WILL BE SENT WHEN YOU BOOK YOUR PLACE.
The fee does include entry to all sites that require a ticket.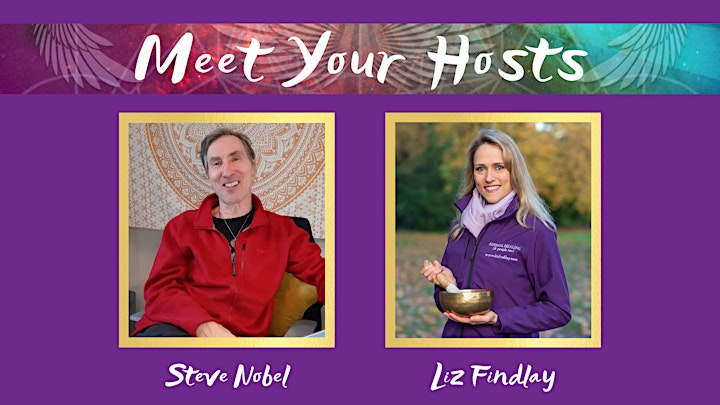 Steve Ahnael Nobel is the author of 6 non-fiction books, the most recent is entitled 'The Spiritual Entrepreneur'. He is a book mentor and spiritual coach. He was a director of a not-for-profit spiritual organisation called Alternatives (based in St. James's Church, Piccadilly, London W1) for 13 years, leaving on the Winter Solstice of 2012. Subsequently, after leaving he began his own work. He created a healing system called Soul Matrix Healing. He also began creating a series of transmissions which are freely available on his website and YouTube channel. These transmissions are played all over the world and Steve received an award from YouTube in August 2021 for reaching 100K subscribers. Steve has also set up a free social media site for Starseeds called 'Our Social Matrix'. He runs webinars aimed at Starseeds, supporting them on their journeys, as well as 1-to-1 sessions on Zoom. Visit his website here.
Liz Findlay is a Reiki Master Teacher, Animal Healer and Laughter Yoga Leader with her own business offering multifaceted healing for both people and animals. Originally from South Africa, Liz lived in London for over 12 years before moving to the Sussex coast where she offers all healing sessions online. She co-hosts Starseed Business Networking each month with Steve Nobel, and runs a podcast called "Inspiring Spiritual Entrepreneurs". She also trained with Steve Nobel in his 'Soul Matrix Healing' system. Liz runs webinars on working with energy and spirituality, as well as practical webinars helping spiritual entrepreneurs. She produces free meditations and podcasts available on YouTube, SoundCloud and Insight Timer. She also offers 1-to-1 sessions on Zoom for people, as well as companion animals. Visit her website here.