A four-day Glastonbury Retreat with Steve Nobel & Liz Findlay embracing Angelic Light for clearing, healing and manifestation in the sacred land of Avalon.

Calling all Starseeds. As you know, we are in a time of a great global energy shift from fear to Love, separation to Unity Consciousness and struggle to new possibilities. In this time frame, energies on and within the Earth are changing. The internal Earth energy grid is increasing in intensity, which in turn intensifies the awakening process.
Heeding the Calling. As the planet moves the intensity of the Ascension process, Starseeds are being called and also pushed out of the 3D Matrix. This is a calling to move completely out of suffering, toil and struggle to align with a higher frequency stream of Flow, Grace and Miracle consciousness. The calling comes from your Higher Self and your Team in Spirit who are aware of why, at a Soul level, you chose to incarnate on this planet.
Angelic Renaissance. We are in a great renaissance of interest in angels and angelic healing light at this time. At this time of ascension, there is much support from the Angelic realm and from many guides and beings of light. Starseeds have a natural connection to many of these Angelic Groups and Forces. Some Starseeds are here to work with Angelic Light / Angelic Fire.
Angelic Light. In this Glastonbury Retreat, we call upon Angelic Light / Angelic Fire for clearing the Akashic records and for mental, emotional and physical healing. Angelic light can also be called upon to align with the 5D timeline of the New Earth and to manifest flow, synchronicities and miracles. We call upon your Higher Self, Team in Spirit and all Angelic Forces to assist in this retreat to raise the vibration of each individual and of the group. This retreat is an opportunity to experience more of this support in your day-to-day reality.

What to Expect. There will be group processes for dream-weaving, deep transmission-meditations and also space for reflection. We will explore the main Sacred Sites of the magical land of Avalon: the Tor (an ancient Druid Hill and Labyrinth), Chalice Well Gardens (a beautiful Feminine sacred space to connect with the ancient well waters and elemental energies), Glastonbury Abbey, and Wearyall Hill. We will also utilise some of these magical spaces for some group activities and ceremonies. There will of course be break time to explore many of the gorgeous crystal shops, cafes and restaurants around town.
For those who have been before, please note the new timings as we will be starting much earlier on the Thursday. We also have a new venue for this Glastonbury Retreat!
There will be a wonderful Gong Bath on the Saturday Evening. This is to further integrate the magic we will be working with during the retreat, and transmute any residual energies that are ready to be released. The frequencies of the gongs provide a gateway to a heightened state of awareness and consciousness while promoting relaxation and stress reduction. This event is optional and only open to retreat participants (included in the fee for this Glastonbury Retreat).
It will be facilitated by Steph Healy of Pure Sound

VERY IMPORTANT NOTE: Please only book 1 ticket in your name and ask your friends and partners to book their own tickets if they are also joining. This is for administration purposes as Eventbrite doesn't seem to provide space for you to notify us of the names and email addresses of additional ticket holders.
PLEASE NOTE THE FEE IS FOR THE RETREAT AND DOES NOT INCLUDE ACCOMMODATION, MEALS OR TRAVEL. INFORMATION ON THESE WILL BE SENT WHEN YOU BOOK YOUR PLACE.
The fee does include the Gong Bath and entry to all sites that require a ticket. There will be excursions to the sacred sites in Glastonbury during the retreat and so a certain mobility/ability to walk unassisted is required. For those less able to walk long distances, you might wish to rest during The Tor excursion as this is a climb up a hill.
CANCELLATION POLICY:
Please see here for information in the (hopefully) unlikely situation you need to cancel. We require 14 days' notice via email for a full refund, minus any fees Eventbrite wish to take. Where an event is sold out and has a waiting list, we will gladly contact everyone on the waiting list to try and sell your ticket. Should someone wish to buy it, we will refund you in full, minus any fees Eventbrite wish to take. Should no replacement attendee be found for your ticket, unfortunately we will be unable to refund you due to upfront costs involved for us booking venue hire etc. Where an event is not sold out and there is no waiting list, you are most welcome to find your own replacement. Should travel restrictions be reintroduced, we will offer all affected parties a full refund. We also reserve the right to cancel this event should we be unable to reach the location due to any travel restrictions. We sincerely hope this will not be the case.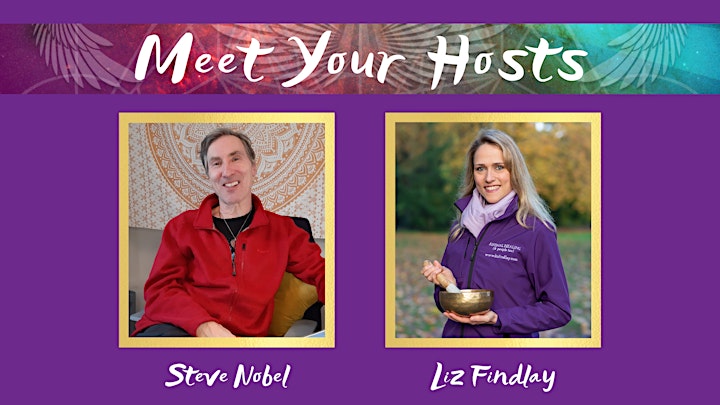 Steve Ahnael Nobel is the author of 6 non-fiction books, the most recent is entitled 'The Spiritual Entrepreneur'. He is a book mentor and spiritual coach. He was a director of a not-for-profit spiritual organisation called Alternatives (based in St. James's Church, Piccadilly, London W1) for 13 years, leaving on the Winter Solstice of 2012. Subsequently, after leaving he began his own work. He created a healing system called Soul Matrix Healing. He also began creating a series of transmissions which are freely available on his website and YouTube channel. These transmissions are played all over the world and Steve received an award from YouTube in August 2021 for reaching 100K subscribers. Steve has also set up a free social media site for Starseeds called 'Our Social Matrix'. He runs webinars aimed at Starseeds, supporting them on their journeys, as well as 1-to-1 sessions on Zoom. Visit his website here.
Liz Findlay is a Reiki Master Teacher, Animal Healer and Laughter Yoga Leader with her own business offering multifaceted healing for both people and animals. Originally from South Africa, Liz lived in London for over 12 years before moving to the Sussex coast where she offers all healing sessions online. She co-hosts Starseed Business Networking each month with Steve Nobel, and runs a podcast called "Inspiring Spiritual Entrepreneurs". She also trained with Steve Nobel in his 'Soul Matrix Healing' system. Liz runs webinars on working with energy and spirituality, as well as practical webinars helping spiritual entrepreneurs. She produces free meditations and podcasts available on YouTube, SoundCloud and Insight Timer. She also offers 1-to-1 sessions on Zoom for people, as well as companion animals. Visit her website here.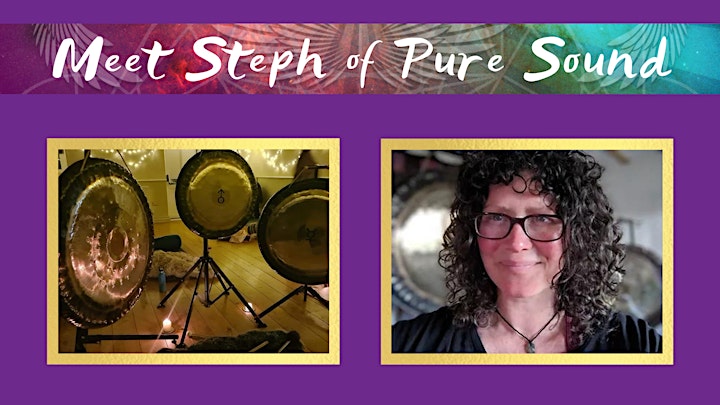 Steph Healy from Pure Sound will be facilitating the Gong Bath on the Saturday night. She is a qualified Sound and Gong Therapy Practitioner, College of Sound Healing Tutor, Biofield Tuning Practitioner and Past Life Regression Therapist, based on the edge of Snowdonia in North Wales, UK. She creates soundscapes in which people can allow themselves to heal and return to harmony and balance and guide people on their inner journeys and adventures as well as teaching Gong Therapy for the College of Sound Healing. Steph runs Gong Baths in Wales and online. She offers free tracks on her YouTube channel for meditation and relaxation. See more about Steph and her offerings on her website here.