A four-day Ireland Retreat for Starseeds & Lightworkers to awaken your Magical Self, clear 'blocks' and activate your soul mission.
Starseeds have incarnated as Earth/Star Magicians, pioneers in consciousness, map makers and way-showers helping to birth a New Earth. Join Steve Nobel and Liz Findlay on this Ireland Retreat as we use the energies of this magical land to manifest, create and activate!
Thursday 1st June to Sunday 4th June 2023
Roganstown Hotel & Country Club, County Dublin, Ireland, K67 P2E4
We Live in a Magical Universe. This Ireland Retreat is about the magic that is all around us and within us. In this time of Ascension, we are being called to remember the magic of the Universe. Just look at a leaf, a snowflake or a star and you will see the magical creative energy of the Universe shining through. We are also called to honour the magic within ourselves. We have long regarded magic as something etheric and mysterious, only available to a selected few. However, magic is the natural gift of Starseeds. These magical qualities lay dormant within us until we shift out of the vibrational spectrum of the 3D Matrix and its limitations. It is now time to Awaken the Magician within you, embody your Higher Self, and manifest your reality more elegantly.
Starseeds are 5D Alchemist-Magicians. Starseeds are here with a mission and that mission begins with awakening. This is the journey out of the 3D Matrix into a new reality. You are here to transform toxic energies, create your reality, shift from a lower vibrational experience to a higher range of experiences. You have a vast range of resources within you. Your soul contains many experiences and is working across many lifetimes, time, space and dimensions, including this 3D dimension (which is now shifting to 5D). Now is a good time to shift away from lower frequencies of fear, greed, resentment etc, and embrace higher frequencies of love, joy, happiness, gratitude, enthusiasm, wonder, bliss and so on. Together it is possible to create Heaven on Earth.
Coming to Magical Ireland. What better place to connect with the magic within and around us than magical Ireland! Starseeds are here to remember an ancient magic that still slumbers in the land, the trees and the rocks. Ireland has a lineage of magical Gods, Goddess and races. The best known being the Tuatha de Danann, and later the Druids and the Celts. Their Pagan traditions thrived until Christianity arrived. Later the Vikings dramatically arrived, settling in North County Dublin and other parts of Ireland. Over time, while most Celtic Gods were forgotten with the expansion of Christianity, the worship of some continued while others were embraced as Saints.
The Goddess Danu and the Faerie Races. Danu is an ancient Irish triple Goddess who is considered the "Great Mother" of Ireland. She is the Mother of the Irish Gods and Faerie people, the Tuatha Dé Danann, which literally means the "People of the Goddess Danu". These were races that came long before the Celts. The Goddess Danu's name means "knowledge, wisdom, wealth and abundance". Her name is also connected to water, and is claimed to also mean 'the Flowing One'. There will be space on the retreat to connect with the Goddess Danu, and the Faerie races that once dwelt in Ireland.
The Magical Traditions of Ireland. In Ireland, the Druids were the wise shamans of pre-Christian Ireland and according to the Romans, Ireland was a major centre of Druidry in Europe. The Druids were highly venerated by the Celtic tribes and worked as their spiritual advisors. Much of the Megalithic monuments across Ireland were most likely constructed with the guidance of Druids, with their superior knowledge of astrology, divination and the energy flow within the land.
The Venue: This is an in-person Ireland Retreat at the Roganstown Hotel & Country Club on the outskirts of Dublin, located very close to Dublin Airport. This hotel is a beautifully restored Georgian House, tucked away on a quiet country road in North County Dublin.

OVERVIEW: During this Ireland Retreat, we will explore how Starseeds can awaken and embody more of their innate Magician through practical exercises, attunements, meditations/transmissions all designed to support you in invoking the magic that is within you and around you waiting to come forth. We will connect with Danu, mother goddess of the land along with elemental forces of Ireland, the energies of the land and the magical Faerie races that have had their home here.
Day One – Thursday: Invoking your Team in Spirit and the Archangels. We will also be invoking the Goddess Danu to be with us over the retreat. Today we there will be the space to review where you are in your life right now, explore how to move and expand beyond the familiarity zone, dissolving old timelines, clearing your energy fields of ego resistance/old programs and energies blocking you from living magically.
Day Two – Friday: We will meet in the Roganstown Hotel & Country Club and from there journey by coach to the magical countryside of County Wicklow. Deep in the Wicklow Mountains is the glacial valley of Glendalough, which takes its name from the Irish Gleann dá Locha, meaning the 'Glen of the Two Lakes'. Here we will stop at Glendalough, a monastic site founded by St. Kevin in the 6th century.
Lunch will be at The Glendalough Hotel. After lunch we will journey by coach to the Athgreany Stone Circle, also known as the Piper Stones. In this circle we will be invoking some magic before returning to the Roganstown Hotel & Country Club.
Day Three – Saturday: Diving deeper into the magic. Exploring how to awaken more of your latent magical nature, connecting your three selves – Conscious, Unconscious and Higher Self. We will dive into raising your vibration, using the magic of your voice, connecting with your Unseen friends (including the Faerie races), and exploring new 5D timelines.
Day Four – Sunday: Final meditation and group processes. Today we will be visiting a local dolmen, a sacred site, for the final day of this retreat. (A dolmen is actually an ancient portal tomb dating to the Neolithic period, 4000BC – 2500BC. They consist of two or more vertical stones supporting a larger, flatter capstone.) There is also an extra blessing on this day, see below.

There will be a wonderful Gong Bath on our last day together. This is to further integrate the magic we will be working with during this Ireland Retreat, and transmute any residual energies that are ready to be released. The frequencies of the gongs provide a gateway to a heightened state of awareness and consciousness while promoting relaxation and stress reduction. This event is optional and only open to retreat participants. It will be facilitated by Carmel of Celtic School of Sound Healing.
________________________________________________________________________________________________________________
VERY IMPORTANT NOTE: Please only book 1 ticket in your name and ask your friends and partners to book their own tickets if they are also joining. This is for administration purposes as Eventbrite doesn't seem to provide space for you to notify us of the names and email addresses of additional ticket holders.
PLEASE NOTE THE FEE IS FOR THE FACILITATION OF THIS RETREAT AND DOES NOT INCLUDE ACCOMMODATION, MEALS OR TRAVEL. INFORMATION ON THESE WILL BE SENT WHEN YOU BOOK YOUR PLACE. The fee does include entry to all sites that require a ticket and the coach trip on Day Two. If you book with the venue (Roganstown Hotel & Country Club), then mention the retreat as a number of rooms have been reserved at a special rate.
CANCELLATION POLICY: Please see here for information in the (hopefully) unlikely situation you need to cancel. We require 7 days' notice via email for a full refund, minus any fees Eventbrite wish to take. However, where an event is sold out and has a waiting list, we will gladly contact everyone on the waiting list to try and sell your ticket. Should someone wish to buy it, we will refund you in full, minus any fees Eventbrite wish to take. Should no replacement attendee be found for your ticket, unfortunately we will be unable to refund you due to upfront costs involved for us booking venue hire etc. Where an event is not sold out and there is no waiting list, you are most welcome to find your own replacement. Should travel restrictions be reintroduced, we will offer all affected parties a full refund. We also reserve the right to cancel this event should we be unable to reach the location due to any travel restrictions. We sincerely hope this will not be the case.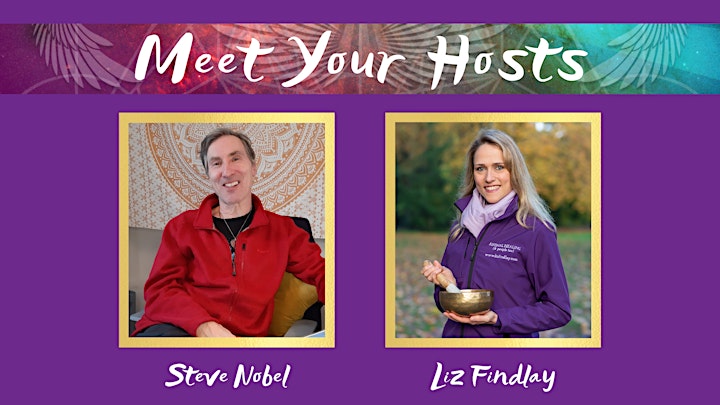 Steve Ahnael Nobel is the author of 6 non-fiction books, the most recent is entitled 'The Spiritual Entrepreneur'. He is a book mentor and spiritual coach. He was a director of a not-for-profit spiritual organisation called Alternatives (based in St. James's Church, Piccadilly, London W1) for 13 years, leaving on the Winter Solstice of 2012. Subsequently, after leaving he began his own work. He created a healing system called Soul Matrix Healing. He also began creating a series of transmissions which are freely available on his website and YouTube channel. These transmissions are played all over the world and Steve received an award from YouTube in August 2021 for reaching 100K subscribers. Steve has also set up a free social media site for Starseeds called 'Our Social Matrix'. He runs webinars aimed at Starseeds, supporting them on their journeys, as well as 1-to-1 sessions on Zoom. Visit his website here.
Liz Findlay is a Reiki Master Teacher, Animal Healer and Laughter Yoga Leader with her own business offering multifaceted healing for both people and animals. Originally from South Africa, Liz lived in London for over 12 years before moving to the Sussex coast where she offers all healing sessions online. She co-hosts Starseed Business Networking each month with Steve Nobel, and runs a podcast called "Inspiring Spiritual Entrepreneurs". She also trained with Steve Nobel in his 'Soul Matrix Healing' system. Liz runs webinars on working with energy and spirituality, as well as practical webinars helping spiritual entrepreneurs. She produces free meditations and podcasts available on YouTube, SoundCloud and Insight Timer. She also offers 1-to-1 sessions on Zoom for people, as well as companion animals. Visit her website here.