Join Steve Nobel & Liz Findlay to gain confidence and knowledge to self-publish your book on Kindle as well as a hard copy.
"Whether fiction or non-fiction, the time has never been better for authors to write and publish a book." – Steve Nobel
If you are thinking that self-published books are second class citizens next to books printed by mainstream publishers, then check out a few of the big titles available today that started out with the authors choosing to self-publish: 'The Tale of Peter Rabbit' by Beatrix Potter, 'Fifty Shades' of Grey by E. L. James, 'The Celestine Prophecy' by James Redfield, 'Rich Dad Poor Dad' by Robert Kiyosaki, 'Still Alice' by Lisa Genova, 'Legally Blonde' by Amanda Brown.
Tuesday 1st November 2022
7:30pm GMT (UK time) for 2 hours

To publish your book through an established publisher is a slow process, whereas to self-publish is relatively fast. Many new authors receive rejection letters from publishers while they wait for that one chance for a break. The good news is, you will never be rejected as a self-published author. Writing a book helps you build a following/a tribe interested in your area of expertise, which is perfect whether you want to share a message or promote a business. Self-publishing opens up possible new income streams (through book sales and other opportunities coming through the book publication). When you self-publish, you have control over all aspects of the book, from design and pricing, to launching and marketing.

We use KDP ('Kindle Direct Publishing') for a number of reasons and here are some of them:
It's free, fast and easy to use,
You can sell online to customers around the world,
You receive a greater percentage of royalties than a traditional publisher,
Your hard copies will always be in stock with their 'print-on-demand' service,
You are in control of choosing the ink colour/s, paper, trim sizes, cover design/finishes,
You can order hard copies of your own book at printing/shipping cost to be able to sell at events or give away on promotion,
Retain the copyright to your work, set your own prices, and run your own promotions through KDP (if you want to),
Create your own Author page with your bio, images and videos,
Access to your own author dashboard to view your sales rank, revenue and customer reviews.

1. Saves you time and energy researching how to publish your book the correct way.
2. Helps you avoid the steep learning curve of self-publishing by trial and error.
3. Teaches you the technical skills that you can apply to any future books you wish to publish.

There will be a synopsis of the writing journey by Steve Nobel as well as all the technical stages of how to self-publish on KDP/Amazon by Liz Findlay.
Opening Attunement with Steve Nobel,
The writing and proof-reading process,
How to open a KDP account (very simply done on Amazon),
Technical details you need to know when designing the front book cover for Kindle and front/back/spine cover for a hard copy book. There are free tools available on KDP to design a cover, otherwise we can recommend a wonderful designer if you do not want to do this yourself,
Technical details you need to know when turning your Word document into a file supported by Kindle to upload. You will also need a separate file for hard copy printing. (Both are quite specialised and we will recommend freelancers to do this relatively cheaply for you),
Uploading your book onto KDP for Kindle publishing, as well as hard copy publishing,
Once your book is published through KDP onto Amazon, there is the all-important journey of marketing your book.
***THIS WEBINAR WILL BE RECORDED*** You will receive the recording automatically through Eventbrite within a day or two of the live event.

All ticket holders will also receive TWO EXTRA BONUS VIDEOS of interviews before the webinar to give you further hints and tips. One interview will be with a graphic designer on book covers, and the other interview will be with an editor on tips for writing your book.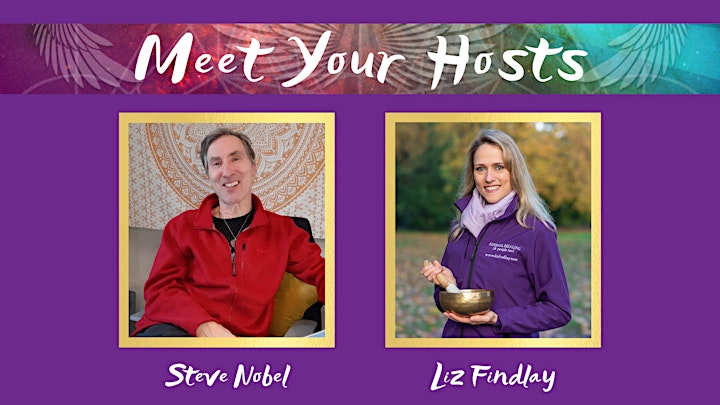 Steve Ahnael Nobel is the author of 6 non-fiction books, the most recent is a self-published book titled 'The Spiritual Entrepreneur'. Steve Nobel has published books through different publishers and he has also self-published. He has worked as a book mentor and also as a spiritual coach. He was a director of a not for profit spiritual organisation called Alternatives (based in St. James's Church, Piccadilly, London W1) for 13 years, leaving on the Winter Solstice of 2012. Subsequently, after leaving he began his own work. He created a healing system called Soul Matrix Healing. He also began creating a series of transmissions which are freely available on his website and YouTube channel. These transmissions are played all over the world and so far, Steve has over 149K subscribers. Visit www.thesoulmatrix.com and follow him on Instagram @stevenobel101
Liz Findlay has her own business offering multifaceted healing for both people and animals remotely online. She left the property/real estate world back in 2016 to start this business and follow her calling after a few lightbulb moments on a retreat in Egypt. This leap of faith has brought many lessons and opportunities. Liz participated in business networking groups in London, UK for 4 years gaining many insights into how it can support small businesses. She now co-hosts Starseed Business Networking each month with Steve Nobel, and runs a podcast called "Inspiring Spiritual Entrepreneurs". She runs webinars on working with energy and spirituality, as well as practical webinars helping spiritual entrepreneurs. She produces free meditations and podcasts available on YouTube, SoundCloud and Insight Timer. Visit www.lizfindlay.com and follow her on Instagram @lizfindlayhealing