Soul Family Connections – a FREE social for Starseeds. Your opportunity to socialise with Starseeds from around the globe in this FREE live online event during the opening of a Galactic Portal.
Following many requests for a social for Starseeds, we have put together a wonderful event. Starseeds often feel like the rainbow sheep of their blood family and so once they begin to awaken, they feel the impulse to seek out their soul family, their soul tribe. There is a general yearning for conversations with like-minded people on the same wavelength, to be able to speak openly and to feel a sense of belonging to the "club of not belonging". So, we bring you this FREE event on a Galactic Portal day for these cosmic energies to support us all and help to bring in the 5D high vibe to our lovely social.
Soul Family Connections – a FREE social for Starseeds
Sunday 20th February 2022
19:30 to 21:45 GMT (UK time) on Zoom
What to expect during this free social for Starseeds:
Opening Attunement by Steve Nobel.
Light Language singing by Marysol Ximenez-Carrillo to open and close the energies of the group.
Breakout rooms to have a heartfelt connection with other Starseeds for friendly, easy-going chats.
Short talk on "Finding the Courage to Shine Your Light" by Liz Findlay & Marysol Ximenez-Carrillo.
Closing meditation to release the group and protect your energy fields by Liz Findlay.

There are a number of galactic portal days activated each year and the 20th of February is one of them. On these days, it is like a door opening to the cosmos and the cosmic vibrations are very tangible, especially for Starseeds and Lightworkers. These energies can be felt a day before and after the portal opens. Highly sensitive people feel these energies very intensely, often feeling more in tune with their intuition with insights and realisations. These galactic portals are opportunities to release more of the old "stuff" that doesn't serve us, inviting the new high vibes in. These cosmic energies truly support us in finding ourselves, they bring to the surface what is active within us, and always offer a chance to go within to be good to the body and soul.

Our online sacred space will be held by 6 Archangels, protecting the group and holding the energies for you to safely open up. Steve will call on these Archangels during his Attunement, along with specialist teams and high vibrational galactic beings here to help with the Starseed mission. There will be a gentle clearing of all lower vibrational energy, energetic interference and energy that doesn't serve us. At the end of our lovely social, Liz will guide you through safely disconnecting from the group, drawing your energy back while retaining the high vibe connections you've made. She will lead a visualisation to protect your energy fields with various energetic layers, before thanking and releasing the Archangels from holding our sacred space.

Marysol will be channelling healing light codes and vibrations to open and close the group by singing Light Language intuitively. The opening channelling will contain the healing codes and vibrations of a higher dimension, so that they may flow into your body and being. These light codes serve as a heart and mind opener, grounding and centering you, creating a safe space for the group. The closing channelling will contain the light codes and vibrations that are for your highest benefit and will be active within you the days following this event. These light codes are a healing frequency to assist your healing process in exactly the way you are ready for in that moment.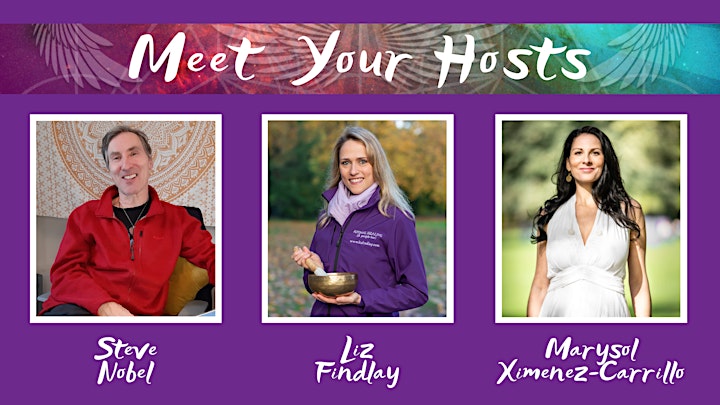 Steve Ahnael Nobel is an author, book mentor, spiritual coach, and healer. He is the creator of Soul Matrix Healing which is a blend of down to earth coaching techniques and energy tools for clearing karmic 'blocks'. Steve was a director of Alternatives between 2000-2012. He has created a series of transmissions which are freely available on his website and YouTube channel. These transmissions are played all over the world and so far, the platform has over 138K subscribers. Visit his website here.
Liz Findlay is a Reiki Master Teacher, Animal Healer and Laughter Yoga Leader with her own business offering multifaceted healing for both people and animals. Originally from South Africa, Liz lived in London for over 12 years before moving to the Sussex coast where she offers all healing sessions online. She co-hosts Starseed Business Networking meetings with Steve each month, also running her own webinars on working with energy and spirituality. She produces free meditations and podcasts available on YouTube, SoundCloud and Insight Timer. Visit her website here.
Marysol Ximenez-Carrillo is an intuitive sound and energy healer and a singer/performer, having worked at theatres for over twenty years. Guided by the spirit world, she channels healing light information and brings it into this world through intuitive singing with sound and light language. She offers sound and energy healing sessions, spiritual coaching and online events, such as sound healing transmissions and guided inner journeys. She leads group meditations for personal and planetary healing and creates music for the soul, guided meditations and personalized sound healing journeys. You can find her English and German tracks on YouTube. Visit her website here.